***Disclaimer: If you've accidentally stumbled across this website in a grubby search for prostitutes, please do the decent thing and remove yourself from the computer, walk briskly to the bathroom, place the toaster in the bath and hop on in. Yes, I mean that. ***
There are no women forced to sell themselves to a man, to a foreigner, to a tourist. Those who do so do it on their own, voluntarily, and without any need for it. We can say that they are highly educated hookers and quite healthy, because we are the country with the lowest numbers of AIDS cases…Therefore, there is truly no prostitution healthier than Cuba's"

.
- Fidel Castro in a speech to the Cuban National Assembly, 1992.
Since the early years of the Cuban revolution, the government claimed as one of its shining achievements the elimination of prostitution. In reality of course, it lingered on; but through the provision of job opportunities and training for former prostitutes, the revolution did go a substantial way to eliminating the sex trade relative to its documented abundance during the pre-revolutionary era.
Spending time in Cuba in 2011, one cannot but be alarmed by the frequency one notices young Cubans, often no more than 14 or 15 years old, fraternising with European and Canadian tourists of a certain age. Disturbingly, this hustling or "jineterismo" of foreigners often camouflages a more basic sex-for-cash transaction.
Some of these "relationships" turn into longer-lasting affairs, going all the way from the bedroom to the Consultaria Juridica (the Cuban Registry Office). Back in Britain, a quick internet search is all it takes to find the sprawling Internet forums, filled with those who have had their hearts broken by Cuban spouses. A frequent poster on one of the largest sites, a Canadian based web-forum called
Cuba Amor
, described to me how he fell for a Cuban woman only to have his heart broken five years down the line. "What you have to understand is that when a Cuban gets involved with a foreigner he/she will first and foremost see it as an opportunity to leave Cuba and make life better for themselves and their family in Cuba…I have some great friends in Cuba, people who have never done me wrong, but even they will tell you the same".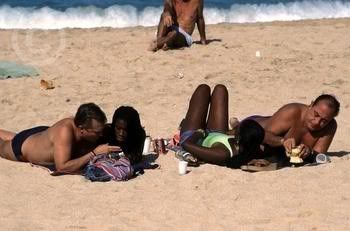 Tonight I am in Havana, and as I sip my weak Havana Club Mojito (Bacardi moved out long ago), I'm surrounded by budding Western sugar daddies, footing the bar-tab and dolling out spending money to their Cuban "girlfriends". The latter for their part appear to be dressed as caricatures of what they think capitalism might look like - all smutty disco garb and gold chains.
Many middle-aged western men, and increasingly women, are travelling to destinations such as Cuba in search of affordable liasons with exotic, dark-skinned young men and women. Jeannette Belliveau, author of the book
Romance On The Road
, says that since the 1990s, hundreds of thousands of western women have had affairs with much younger foreign men in places including Cuba, Jamaica and Gambia. "These are respectable women. Not all of them are unwitting victims to these sexual conmen", she says. "I have spoken to many women who fly to the Gambia or Jamaica specifically for the purpose of recreational sex".
In a play called Stuff, Latina artists Coco Fusco and Nao Bustamante dramatised the way in which first-world travellers have taken to viewing their third-world counterparts as exotic products there to be "consumed". Cuba, so long discouraging of tourism, today actively welcomes those from the capitalist countries out of economic necessity; and the line between promotion of the country as a holiday destination and as a haven for sex tourists has become increasingly blurred. Cuban tourist materials in the 1990s would often picture scantily clad women fraternising with first-world tourists (a taste of what to expect should one visit, perhaps?);and author Michael Clancy, in his book,
The Globalization of Sex Tourism and Cuba
, remarked that the Cuban government's attitude towards the "consumers" of this "profession" was "to send a message to the global sex tourist community that Cuba was open for business".
The Cuban Federation of Communist Women predictably tries to downplay the issue, arguing that "jineteras" - a term used to denote everything from flat-out prostitution to a "friendship" struck-up for material gain - engage in sex work simply out of materialistic impulse and a desire for luxury items, with no mention of Cuba's economic failure playing it's part.
The government's response on the street has been to veer erratically between toleration and repression. Many young girls are stopped by the police when accompanied by a foreign tourist and asked to produce their identity cards; should the police discover that the girl in question has been stopped with another tourist at a different time, she will be arrested; the first arrest as a warning, subsequent arrests resulting in a possible prison sentence. This policy, however, is accompanied by one of toleration for those who solicit for prostitutes, reminiscent of the traditional harshness towards women involved in this type of interaction throughout the world.
Young Cubans are not the only victims in all of this. Nor is the dynamic simply one of westerners travelling to poorer countries in order to exploit the economic position of the locals. As David from Cuba Amor put it to me: "I've spent thousands of dollars on trips to Cuba, gifts for my ex-wife's family and getting married. Since then I've been through hell. It's hard to think you have this life, and then all of a sudden — was it a lie? You're struggling because it wasn't real. But I survived. It was hard, but it didn't kill me".
While Western holidayers continue flocking to Cuba, so stories of broken hearts and financial ruin go on dominating the internet forums at Cuba Amor, with several new posters joining every week. David has decided not to return to Cuba since his divorce in 2010, due in part to too many painful memories. "It's just the casual deceit of it all. You understand why it can happen, because the people there are poor, but that doesn't stop it hurting".
Back in Havana, a newly-wed tourist/Cubana couple are entering the lobby of the Hotel National as I saunter into the bar for a pre-lunch drink. Despite the chaotic manner in which they make their entrance (the bride's dress appears to snag on the revolving door on the way in), they look a picture of happiness. I managed to catch the groom and offer him my congratulations later that afternoon, as he came into the bar. He was a Canadian engineer, and met his wife, 25 years his junior, while she was working as a waitress in the resort of Varadero. "I've been very careful", he told me, "but at the same time, I'm getting on for 50; I've got to take the risk. It's now or never".
It was at this point that I thought about warning my companion that love in Cuba is a game where the stakes are high and the house often wins, if you can forgive the dreadful metaphor. Instead though, I decided to slip back to the crowded bar and observe the happy couple from a distance. My flight was in four hours, and I was about to order another drink when I noticed a Cuban girl of around 18 or 19 making her way towards me. Better for everybody, I thought, if I saved the next one for the flight home.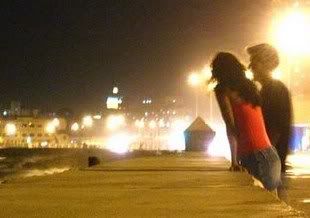 *In 1995, Italian travel magazine Viaggiare awarded Cuba five stars for its "general erotic level", calling it a "paradise of sexual tourism".