George Orwell is often evoked as a figure of exemplary moral character. Name-dropping Orwell, or attaching the "Orwellian" label to some policy or method of speech, implies an awareness of an attempt at control and an opposition to authority. Cutting through the doublespeak and distortions of power, Orwell is said to represent the conscience of the bourgeois liberal – deeply suspicious of big ideas and the state as well as instinctively hostile to totalitarianism.
Orwell's genuine political ideas are often lost in the clamour to evoke his name and tailor the ideas he espoused to fit a respectable political posture.
Today Orwell is best remembered for his anti-totalitarian tracts
Animal Farm
and
1984
. Respectable discourse often neglects to mention much of the other work Orwell produced during the course of his life - work that was scathing in its attacks on British imperialism and capitalism in general.
Orwell's most famous works are not in fact an abandonment of socialism at all. George Orwell remained until his death in 1950 an adherent to the socialist cause, stating that "every line of serious work that I have written since 1936 has been written, directly and indirectly, against totalitarianism and for democratic Socialism, as I understand it." Attempting to write off socialism by equating the idea with Soviet communism is nothing new of course, as anyone who has ever had an argument with a simple-minded conservative will be aware. "It didn't work" or "you didn't learn anything from Russia" they will say, as if there was ever a prolonged period in the former USSR when the workers really were in control.
What is lost in the clamour to turn Orwell into an "End of History" propagandist – "socialism will inevitably turn into totalitarianism etc" - are the nuanced positions he held during his life, represented by a consistent opposition to totalitarianism and tyranny
as well as
a hostility to capitalist imperialism.
Conveniently, much of what is forgotten or ignored in Orwell's politics is that which is
most
valuable and worth listening to today: i.e. it is no good indulging crass second-campism because tyranny is pointing AK47s in the direction of the United States; but it's not much better demanding hostile regimes adhere to human rights while ignoring the flagrant abuses of Western capital or the suspension of the rights of Palestinians in Gaza.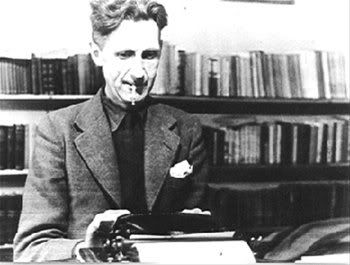 A proper examination of Orwell's work reveals not only a firm commitment to socialism, but a disdain for any attempt to propagandise against the USSR and communism when accompanied by silence on the crimes of Western imperialism. Today of course, it is not British imperialism of the 20th century which is whitewashed, so much as there is a widespread adoption of the notion that behaviour of this sort by Western powers is consigned only to historical record.
Viewing the attempt at moral equivalence between totalitarianism and parliamentary democracy as "the argument that half a loaf is no different from no bread at all", Orwell instinctively recognised the double standards of those who behaved as Thomas Paine's abroad but Edmund Burke's at home. In his reply (dated 15 November 1943) to an invitation from the Duchess of Atholl to speak for the British League for European Freedom, he stated that he didn't agree with their objectives. Acknowledging that what they said was "more truthful than the lying propaganda found in most of the press" he added that he could "not associate himself with an essentially Conservative body" that claimed to "defend democracy in Europe" but had "nothing to say about British imperialism". His closing paragraph stated: "I belong to the Left and must work inside it, much as I hate Russian totalitarianism and its poisonous influence in this country."
The argument retains much of its force today for those who seemingly view British and American power in the 21st century as transformed and benign. One need not be an anti-American lunatic to see capitalism as having lost none of its ruthlessness – either at home or abroad; or the willingness of the British establishment to compromise with the "right sort" of tyranny, as David Cameron's recent sojourn around the Middle-East with a contingent of arms dealers in-toe demonstrates.
In this vein, when fighting for the POUM (Partido Obrero de Unificación Marxista) in Spain, Orwell felt uneasy about the clamour for war by many journalists who themselves were living comfortably at a safe distance from the Front. "One of the most horrible features of war is that all the war propaganda, all the screaming lies and hatreds, come from people who are not fighting....The people who wrote pamphlets against us and vilified us in the newspapers all remained safe at home...hundreds of miles from the bullets and the mud...the tub thumping, the heroics, the vilification of the enemy – all this was done as usual by people...who in many cases would have run 100 miles sooner than fight".
It was the daily realities of the Spanish Civil War which dragged Orwell's politics to the left. As the late
Peter Sedgewick
wrote, "Orwell was pre-conditioned by his entire experience as a Socialist to see the Spanish Revolution in a proletarian rather than Popular-Frontist terms. Undeveloped and eccentric as his politics were, they retained enough basic class-sense to collide against Stalinism's attempt (abetted by the 'liberal' Left like Gollancz and the New Statesman) to crush the Spanish workers' own revolution...once Orwell came up against the reality of the CP's counter-revolutionary terror, he was inevitably pushed further to the Left. And his experience of human fraternity, in revolutionary Barcelona and at the front with POUM, dissolved the waverings of gentility: 'I have seen wonderful things,' he wrote back to Cyril Connolly from Spain, 'and at last really believe in Socialism, which I never did before.'"
When he returned from Spain, Orwell warned those Western intellectuals who lionised the Soviet Union to "remember that dishonesty and cowardice always have to be paid for. Do not imagine that for years on end you can make yourself the boot-licking propagandist of the sovietic regime, or any other regime, and then suddenly return to honesty and reason. Once a whore, always a whore."
There are some today who would do well to remember these wise words when excusing no-end-of hideous barbarism in the name of "anti-imperialism".